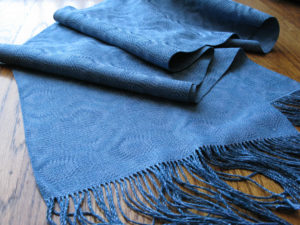 Welcome to Loom & Shuttle Guild! We are a community of San Francisco Bay Area weavers who support and inspire its members and the public.
Our guild was founded in 1948, and currently have approximately 60 weavers. Centered in San Francisco, our members come from around the San Francisco Bay Area.
Member skill levels range from beginners to professionals. We weave on many different types of looms: from rigid heddle, back strap, and table looms, through multi-shaft, multi-harness, and jacquard. Some weave without any loom at all! All of us are interested in the interlacements of warp and weft.
The guild supports a wide range of weaving interests, skills and experiences that are shared at meetings and offers outstanding programs with focused topics, and other inspirational events. Members weave a variety of projects such as towels, placemats, napkins, rugs, scarves, yardage for fashion, and art pieces.
Join Us!
Everyone is welcome to attend our meetings. Meetings and programs are free for members. See the Program Calendar page for a list of speakers, activities, and dates. 
The Guild meets the first Saturday of each month (second Saturday on weekend holidays).
When in-person meetings resume, we meet at:
St. John's United Church of Christ @ 10 am 501 Laguna Honda Blvd., San Francisco